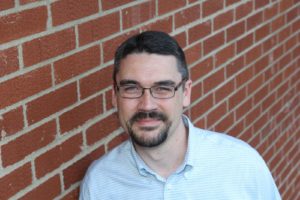 Rev. Richard J. Hayes
Born and raised in Southwest Ohio and nurtured in a home which honored God as Creator and His Son as the only source of salvation, Richard J. Hayes became a Christian at a young age.  Rick received his call to Christian ministry early in life, and preached his first sermon as a teenager.
At this same time, Amanda Curtis was in Winchester, KY being raised in a pastor's home.  In 1994 her family would relocate to Middletown, OH.  In the years to follow Rick and Amanda would cross paths at various times, until 2003 when the couple began dating.  They were married in June of 2004 and moved to Ft Wayne, IN.  They entered vocational ministry in 2006 when joining the staff of Pastor Charles Heater at Little Paint First Church of God in Eastern Kentucky.  While at the Little Paint Church, Rick and Amanda welcomed two children: son Shane Walker and daughter Reagan.  In 2009, the Hayes family relocated to Louisville, KY where Rick assumed the pastorate at Poplar Level Church of God.  While in Louisville, the Hayes family continued to grow as they welcomed two more boys: James and Harrison.  Rick and Amanda are personally and collectively gifted for ministry service.  They share particular interest in marriage and family ministry concepts, and believe the church is best served on the cultural front lines promoting evangelism and discipleship.  They desire to remain in God's will of being led by the Holy Spirit to share the salvation message of Jesus Christ.  Through it all, Rick and Amanda value life with each other, raising their four children, and laboring in the ministry field.  Pastor Hayes is ordained through the Church of God with General Office in Anderson, IN. He holds a B.S. in Biblical Studies through Indiana Wesleyan University.